Are you looking for a comfortable mattress for couples or individual with plenty of space to sleep? Queen size mattress will be good choice for those who want to take advantage of their bedrooms as well as those who have guest rooms.
Table of Contents
What's the queen size mattress dimensions?
More mattress size to compare
How to choose the mattress size?
---
What's the Queen size mattress dimensions?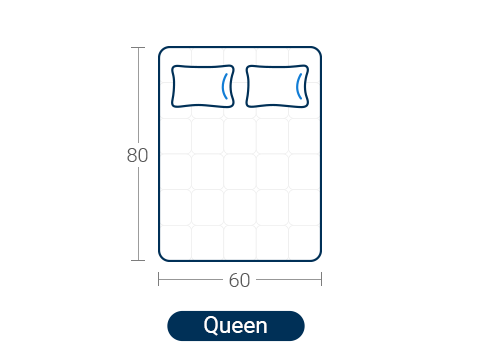 Mattress size: 60"x 80" | 153cm x 203cm
The Queen mattress dimensions has three main units of measurement to measure its size, in inch the size is 60" x 80"(IN), in the foot size is 5 x 6.66(FT), in centimeters the size is 153 x 203(CM).
The thickness and height have from 8inch to14 inches generally. And thicker queen size mattress means that more materials are added to both the support layer and the comfort layer to make ensure its comfort and durability of high profile. Considering long-term investment and durable support for more sleepers, it's good to choose at least 10inch mattress, and 12-inch mattress will be more cozy & soft as its pillow top.
And more about how to compare 10inch and 12inch mattresses, we make a guide in this blog 10inch vs 12inch.
A queen size mattress makes an ideal option for the master bedroom or guestrooms. It can accommodate several visitors for a couple of nights. Moreove, considering the available space of bedroom other furniture and walking activities also is important, that allow you to make the most of the bedroom space without being too cramped. A queen-size bed requires a room that's at least 10 by 10 feet. If you are eyeing a queen-sized bed, ensure the room can adequately accommodate it, lest you end up with ugly proportionality, if not a complete misfit.
The width is enough for two sleepers with a considerable amount of comfort. For a single adult, the width is more than enough to allow sprawling out all night! It is, however, not too much for a couple who require too much space.
---
More mattress size to compare?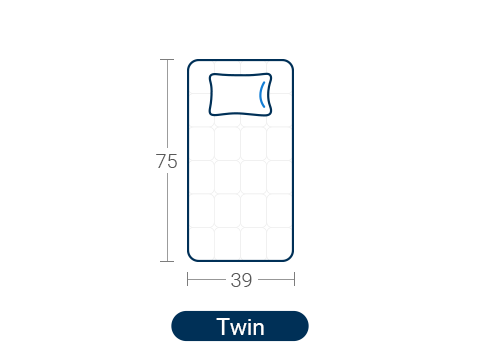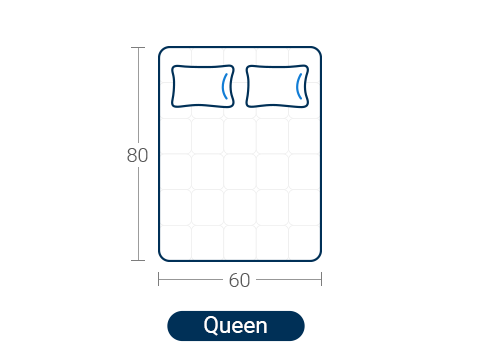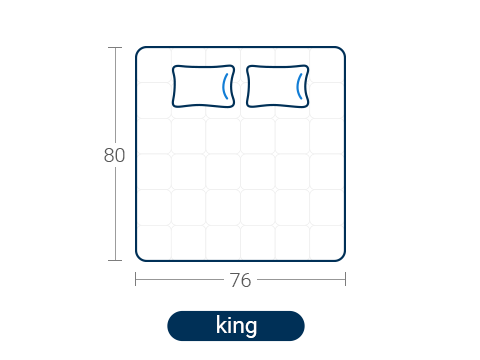 ---
Mattress size: 39"x80" | 99cm x 203cm | individual
A twin XL mattress measures 38" by 80". It's a little longer than a twin bed, making it a good fit for taller teenagers and adult single sleepers who are short of space.
Twin XL beds are also common in college dorms. If you expect guests at your house within short notice, the Twin XL size is a good pick for its lower price and space requirements compared to a full or queen-size mattress.
Room size: master bedroom size not less than 9 feet 6 inches by 10 feet 6 inches, and that space gives a comfortable fit, although the bed can also be practical in a room that no wider than 7 feet.
Best for: taller teenagers, adult single sleepers, college students
Mattress size: 54"x75" | 137cm x 190cm | individual
Measuring 54 by 75 inches, a full-size bed and mattress are an ideal pick for couples who prefer to spend quality time together in bed. This is why the mattress size is often dubbed "double," although it is twice as wide as a conventional twin bed.
A full bed is also ideal for young adults, guest rooms, and as a spare bed where a queen bed would be too big for the room. Nevertheless, the full-size bed is not enough for a couple who'd wish to bring along their children or pets to bed.
Room size: a full-size bed requires a room measuring at least 10 by 11 feet for a comfortable fit. This sounds like a typical room for a grad who has just moved out and is just starting life on their own.
Best for: young adults, guest rooms for individual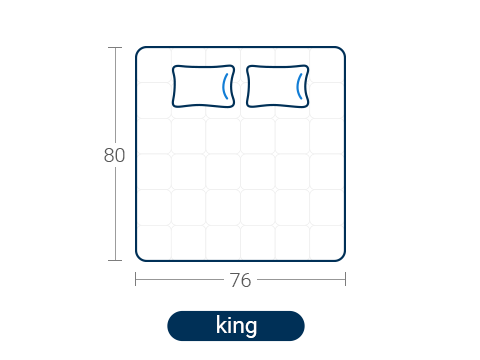 Mattress size: 76"x 80" | 193.04cm x 203.2cm | individual, couples
As big as a queen-size bed might be, it's not enough for some sleepers. The king-size bed is 16 inches wider than the queen. It measures 76 by 80 inches. It makes the perfect upgrade option for a couple who have outlived the queen size bed.
The king-size bed is the widest standard bed size option. It even wider than the California king bed, although it's a little shorter. The ample width is enough for couples who both want to sprawl out during sleep without interrupting each other's sleep. And The king-size mattress features a split option, which is essentially two Twin XL size mattresses adjacent to each other. If you and your partner have different mattress tastes, the king-size mattress can handle that.
Room size: good choice for the master bedroom, but please make sure that the room have at least 12 x 12 feet space. Moreover, considering the available space of bedroom other furniture and walking activities also is important, that allow you to make the most of the bedroom space without being too cramped.
Best for: plus size people want to unfettered sleeping space to stretch out their body, even rolling around; Couples or individual who need to share the sleep space with their lover, pets, baby.
---
How to Choose the Mattress Size ?
Your Weight, Height & Sleep Position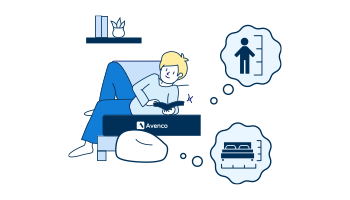 Knowing about your curves and sleep preferences can also help you buy the right mattress. In terms of height, all mattresses give the sleeper under 6 feet to stretch out, but sleeper over 6 feet need a bed that at least 80 inches of length (twin XL, queen, king, and California king); In terms of weight, sleeper under 130lbs need more soft mattress that offer body wrapping comfort, 130lbs-200lbs need a medium firm mattress for cozy but without sacrificing support, and for sleeper over 200lbs robust support is most important, and mattress need enhance the lumbar, hips support to ensure healthy alignment of the spine during sleeping; In terms of sleeping position, side sleepers prefer a softer and comfortable mattress to cushion the sharp pressure on the shoulders, while stomach & back sleepers require a medium firmness or firmness mattress that provide sturdy support for the midsection of the human body.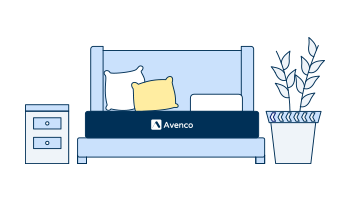 The size of the room is also an important factor when choose the dimensions of a new mattress, it's better to measure out in advance about how much space the new mattress will take up in your room. For instance, you want to upgrade the master bedroom with a king size mattress: first, the mattress will take up your room of 76"x 80" space; second, the bed frame will be often add 2 to 5inches space to each side of mattress; Last, don't forget to keep about 24 inches of walking space around the entire perimeter of the bed.

In addition, how to transport the mattress from the door to your room also is a challenge. You need to confirm the mattress can through the staircases and doorways especially for the king size mattress. But mattress in box can easy to transport even in small room size as its compressed shape.
---
How Many Sleeper Share Mattress?

This is one of the key factor you should consider when purchasing a new mattress, a mattress with right size can ensure have enough space to accommodate your sleeping partner while keeping personal space to stretch out and avoid bumping into each other due to crowding. In general, couples will likely want at least a queen size bed, but a king size bed or california king bed will be a preferred choice if you have children or large pets who need to share a sleeping area together.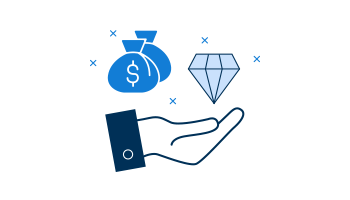 Generally speaking, the bigger the mattress the more material it need, hence the cost will be more expensive. But the final price is also affected by the brand, material type, local labor cost, marketing cost and technological innovation. A new mattress of $500 is not necessarily inferior to a mattress of $999. You can make a wise decision by comparing the materials, mattress structure, brand service. For example, the Latex materials are more expensive but durable than foam materials. In addition to this, considering the cost of other accessories like sheets, blankets, and bed frames is necessary.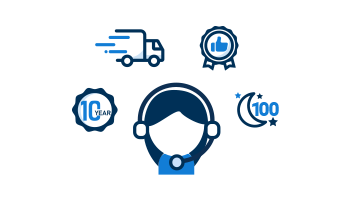 As an long-term investment in a family, the quality of a mattress will affect your sleep quality. Good suppliers are very confident in their mattress with at least 10-year warranty service. Moreover, most online mattress supplier also offer great service of 100 days free trial & free shipping, which give us more choices.
---